Strategy
We are a company which thanks to many years of hard work, commitment and innovative solutions has gained the position of unquestionable leader of the mining industry and the status of one of the most significant companies of southeastern Poland.
In May 2023, the company announced the key elements of the Growth Strategy of the LW Bogdanka Group for 2023-2030 with an Outlook until 2040, including the dividend policy. The New Strategy is Bogdanka's response to the global trends of the rapidly changing world that have a special impact on the energy and coal mining sectors.
The strategy is based on 5 pillars - a strong coal foundation (Pillar I - Efficiency Leader) with the underlying directions of diversification (Pillar II - Multi-commodity Concern and Pillar III - Sustainable Energy Guarantor), as well as factors of sustainable and responsible development (Pillar IV - Green Transition, Pillar V - Future of the Lublin Region). Under the aforementioned 5 pillars, 21 strategic initiatives have been developed.
We continuously strive to deepen the dialogue with our community, understand its expectations, while at the same time broadening the platform for responsible collaboration with our employees and Partners. In this way, we build the image of our company - a value that is invaluable to ourselves, our shareholders and stakeholders. For more than 40 years, our greatest capital has been our people, and our activities focus on providing work for the next generation of residents of the region.
Vision
Innovative multi-commodity concern driving the green transition and ensuring economic development of the Lublin Region.
Mission
Responsible and sustainable development based on mining competence.
Strategic objectives
Our overarching goal is to build a modern Group of companies which creates a value chain around renewable energy sources and the green transition of the Lublin Region.
Strategic objectives
Our overarching goal is to build a modern Group of companies which creates a value chain around renewable energy sources and the green transition of the Lublin Region. We will achieve this by gradually implementing initiatives, while building on our existing mining competencies. We will use them in the implementation of new mining projects, entering the market for strategic raw materials, which will become an attractive and reliable diversification path. A specially created Investment Fund to support innovative and promising projects will help us achieve our goal. We will remain active in the entire renewable energy value chain, pursuing modern recovery technologies and striving to meet 10% of the region's annual energy consumption. We hope that meeting these targets will contribute to reducing our carbon footprint by as much as 70% by 2030.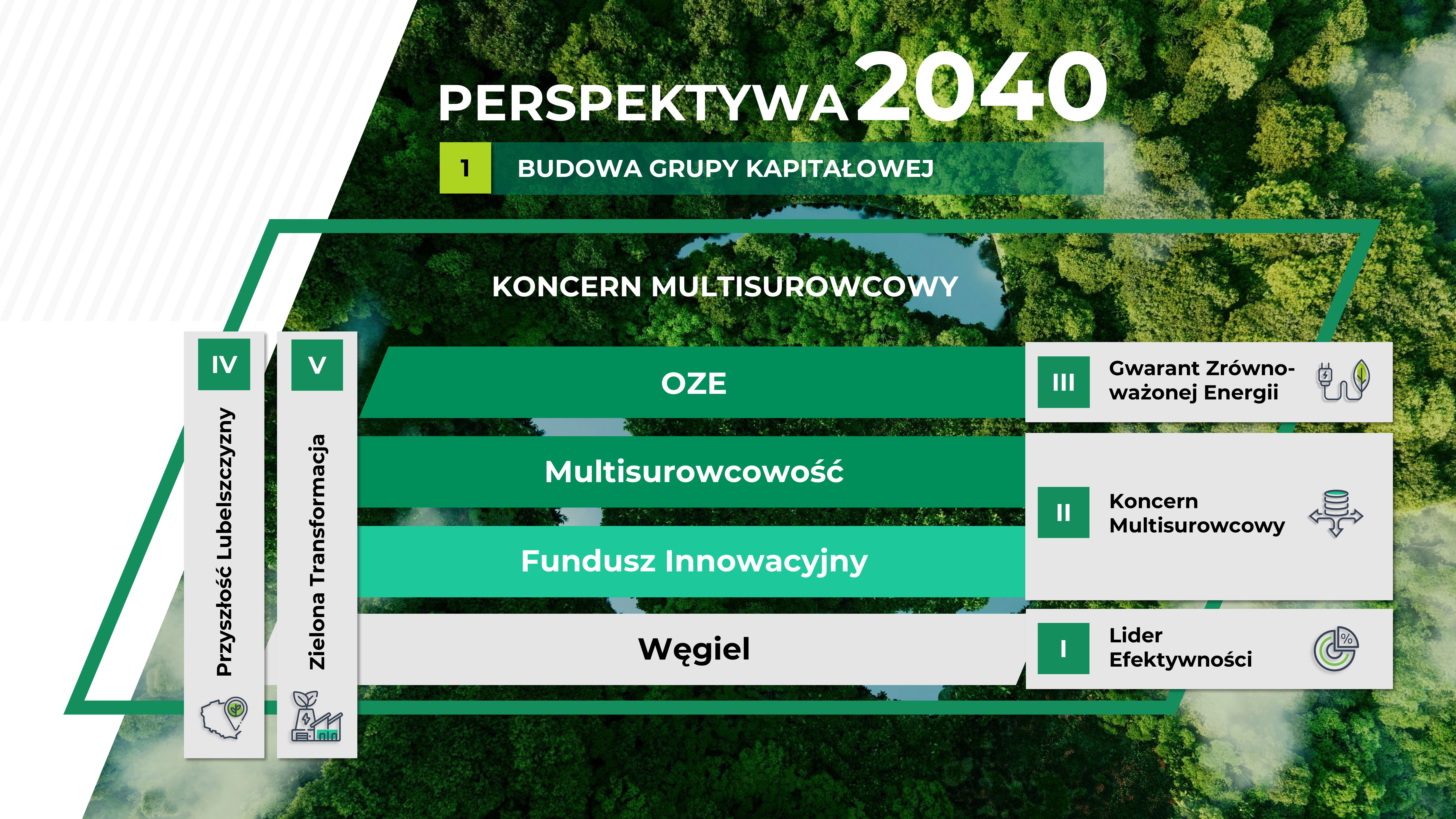 LW Bogdanka Group's Strategy is based on 5 pillars, the main one (I Efficiency Leader) providing a solid foundation and the remaining four (II - V) ensuring the implementation of the Strategy and diversification of the revenue stream. The operational aspects of the 5 pillars have been translated into 21 strategic initiatives.
Efficiency Leader - Efficiency, Innovation, Expansion
We will build a strong group of companies based on new development ideas for both the existing companies as well as new ones that we will create for dedicated projects. To ensure stable financing for the development initiatives, we want to strengthen the efficiency and profitability of our core-business, our core operations. We also see a proactive role of Bogdanka in support of Ukraine's reconstruction - especially in mining and energy projects.
Multi-commodity Concern
Over the next few years, we wish to transform Bogdanka into a Multi-commodity Concern. In view of Bogdanka's experience in mining and the growing potential of commodity markets, especially for critical raw materials, we believe that multi- commodity route is an attractive diversification path. The Company plans to spend PLN 50 million in the coming years on exploration, appraisal drilling and other works, to take it to the stage of an investment decision. Currently, after expert analysis in this area, Bogdanka has tentatively identified 11 raw materials and more than 20 potential locations where it will carry out advanced analyses.
As part of the Multi-commodity Concern, the Company also plans to establish a Fund to invest in new technology projects related to our current and future operations. Through collaboration with a strong business entity and financial support, we wish to enable the intellectual potential of Lublin's universities and entrepreneurs to bear fruit in the form of industrial-scale implementations in areas such as mining technologies, alternative coal utilization, circular economy, energy storage, clean coal technologies, CO2 capture, as well as zero-emission heat and hydrogen.
Sustainable Energy Guarantor
In this pillar, we envisage a major opportunity for Bogdanka to acquire new competencies, such as investment in renewable energy installations (wind and photovoltaic farms, energy storage), as well as in the entire value chain - from component production, through energy generation and energy storage, to recycling of waste photovoltaic and electric batteries.
We plan to develop RES in several stages, until we reach the scale of 500 MW of total capacity and become a net energy seller for the region. Supporting the pursuit of these objectives is the "Łęczyński Energy Cluster" established jointly with 6 municipalities of the Łęczna county and in collaboration with the Lublin University of Technology.
The Green Transition
Trends show that the ESG aspects of operations are becoming an imperative in creating corporate strategies. In parallel with the update of the growth strategy, we developed the first ESG strategy at Bogdanka in 2022, based on the best market standards and stakeholder analysis. In the same year, the company was re-incorporated into the WIG-ESG index on the WSE, thus confirming the validity of the direction we have taken. We wish to continue to work on execution of sustainability initiatives, so that we are perceived as even more solid and reliable partner by investors and the local communities.
Our ESG activities will focus on 3 areas:
circular economy
energy efficiency
regeneration of mining areas
We are aware that mining activities are inextricably linked with environmental interference. It is our ambition to minimize this impact and repair the damage that could not have been avoided.
Future of the Lublin Region
Our perspective does not focus only on the "here and now", but aims to preserve Bogdanka's potential as a driving force for the Lublin Region in the future. Through diversification of operations, acquisitions, development projects and other diversification activities, we wish to create stable jobs in the region. As part of the new strategy, we will launch programs aimed at attracting new and retaining our best employees. At the same time, we will implement new measures that are of paramount importance for every mine, i.e. health and safety investments to increase the level of occupational safety.
The adopted pillars, such as RES and Multi-commodity-based operations, which will mature over the next two decades, will allow us to provide a similar number of jobs as today after 2042 as well. We are aware that Bogdanka stands for not only the workforce directly employed by the Group, but the local value chain in general, providing jobs for tens of thousands of people - especially in the Lublin region. Cooperation with local partners (currently nearly 400 entities) is our priority. Thus we are actively supporting the development of entrepreneurship in our region, which will ultimately translate into its economic security.